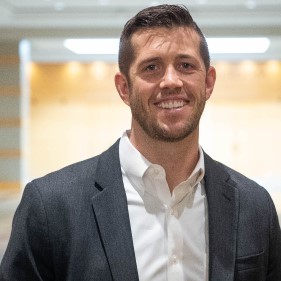 Jacob Puhl
CEO / Partner
As the CEO of the DEO, Jake is dedicated to providing group practice leaders the resources and support they need to move from disjointed "dots on a map" to unified, thriving dental group enterprises by "Thinking like a CEO."
Jake earned his MBA from Xavier University and has now started, owned, and served as CEO of several seven-figure businesses.
Darin Acopan
EVP / Partner
Darin has been working with managed group dental practices in the DSO space for the past four years. He is focused on interviewing and selecting new DEO members and heads strategic partnerships for the DEO.
In his free time Darin enjoys spending time with his family , listening to podcasts and volunteering at the local humane society.

Erin Hamilton
Operations Leader
Erin hails from a background in healthcare, pharmaceutical and product marketing. Her career started in creative and project management, then migrated to operations over the last 10 years. Erin is here to keep the ship sailing smoothly both internally and externally, so the rest of the team can focus on our DEO members.
Erin spends free time running her 22 acre farm in Western Washington, which includes grass-fed cattle, horses, goats, chickens, and growing fruit trees.
Dr. Charles Moser
VP Community Management
Charles has over 25 years of experience in the dental industry. Here at the DEO he co-leads our Expert Webinars, Mastermind Calls, and accountability calls. He is around for ocasional coaching calls as well.
When not doing amazing work for DEOers Charles is out playing golf or spending time with his family.

Megan Anzisi
Business Development Support
Leigh Hoodenpyle
Finance & HR Manager
Rachel Shipley
Senior Project Manager
Nick Markulis
Paid Traffic Lead