Hey,
I have a question for you.
What's the first issue that comes to mind when you think about the exciting but nerve-wracking prospect of fulfilling the vision you have for your dental business?
For many, it's thinking about how and when to spend less time in the chair or if you'd rather get out of it completely. Well, you're in luck today! I'm happy that as our community grows, we are able to create more resources for you. I'm excited to tell you about our latest one….
It's the "Break Free From The Dental Chair Toolkit." To download it, simply go here to gain instant access.
It will help you take the steps necessary to determine your path out of the chair or how to spend less time there…
First, you have to take the mental step and break through the first barrier — affirmatively deciding to set your growth goals and align them with your vision — do you want to go from 1 to 3 or 3 to 5 locations or beyond?
Second, if you are like most dentist-entrepreneurs who have decided to "go for it" — shortly thereafter, it will dawn on you that to make it happen — you need to determine how much time to spend in the chair or if you want to get out altogether… The prospect of how and when to do this can be overwhelming to say the least!
Most of the dentist-entrepreneurs I've met, face this question with both excitement and trepidation — looking forward to taking on more of a leadership role in their practice but unsure how to extricate themselves from the day to day.
But there are solutions and roadmaps to follow…
We have found there's tremendous value in solving problems like these with your peers — with those who have "been there done that", those who are trying to get to where you are, and those who are where you want to go. The DEO subscribes to the philosophy of "Why reinvent the wheel?"
Thus, from our experience working with 100s of successful dentist-entrepreneurs, we have curated resources and have developed a framework — The Dental Organization Growth Model™ to help dentist-entrepreneurs/leaders take the next steps toward achieving their visions — to go from clinician to entrepreneur.
One component of this model focuses on "you" — the leader — to level up and go from dentist-owner to dentist-entrepreneur, you can't be in the chair every day. You have to get out of your own way — here are some of the resources we offer to help you: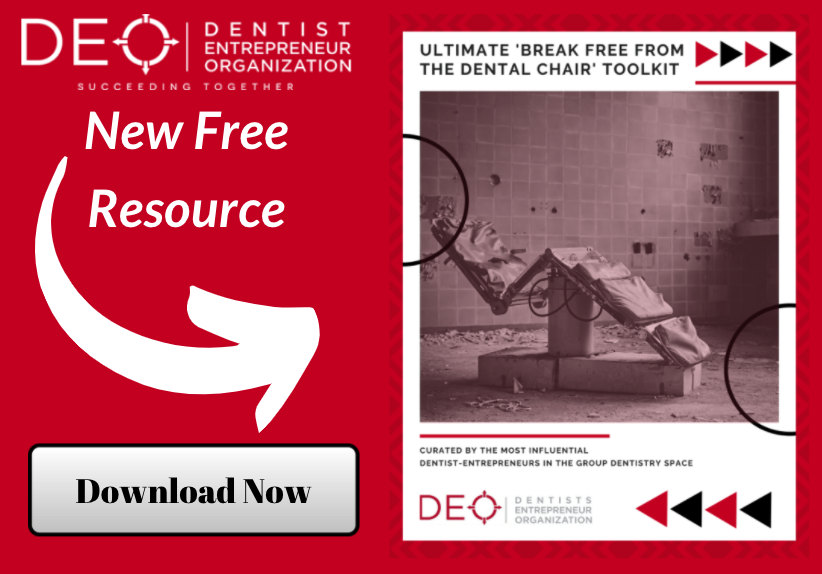 3 Tools To Break Free from the Dentist's Chair and Get Out of Your Own Way
Resource #1: Chairside Financial Calculator
This calculator is a resource that was created by Ken Kaufman, CFO of 70 + location National Dental Partners. It is designed to help visualize the finances involved in getting out of the chair. I think you'll find it valuable to help you map out different scenarios.
Resource #2: Video — Moving to 0 Days in the Chair with DEO Member Dr. Matt Kathan
DEO Member Dr. Matt Kathan, is co-founder of 4+ location Timber Dental in Portland, OR. Since founding Timber Dental in 2014, Dr. Kathan has successfully taken the journey to break free from the dentist's chair.
This resource is a video of an interview I did with him at a DEO private member event. In it, he provides valuable insight and advice for getting out of the chair. We discuss:
The HERO Culture Trap
How to know when it's time to leave the chair
How to reduce your time chairside
Hiring systems to replace yourself and hire in general
Resource #3: Video — Building a 3 Location Group with 0 Days in the Chair: a Case Study with Dr. Matt Kathan
With this resource, you get to learn even more from Dr. Kathan. He outlines step by step how he went from 1 to 3 locations, in large part due to breaking himself free from the dentist's chair. We chat about:
The key ingredient to scaling: growing yourself (leadership development and more)
Quick tips for business growth
Maintaining relevance without being in the chair
So if you are at a crossroads in the growth of your dental group, — looking for business tools, templates, and expert knowledge to help you make the big leap out of the dentist's chair, grab this "Ultimate Break Free from the Dental Chair Toolkit."
I hope these resources will help you wherever you are at breaking free from the dental chair. Use these tools to get out of your own way and make that next big leap towards your vision.
Cheers,
Jake Puhl
Dentist Entrepreneur Organization
CEO / Partner